If your old home is displaying signs of wear and tear, our expert team is here to help. We specialize in offering comprehensive and reliable home installation, repair, and renovation services, ensuring your beloved home remains a safe and comfortable haven for you and your family.
Our home improvement services include:
Kitchen Remodeling
Turn your kitchen into a stunning and functional space that complements your lifestyle. At HHI Contracting, we understand that every kitchen is unique and has different requirements. Whether you're looking for a complete layout overhaul or a simple countertop upgrade, our experienced team is here to bring your vision to life.
If you're not sure about the design, don't worry! We have the expertise to guide you through various options, including popular styles like one-wall, galley, L-shaped, U-shaped, island, and peninsula, to ensure your kitchen is a perfect reflection of your taste.
Bathroom Remodeling
Experience a bathroom transformation like no other! Our skilled designers and contractors collaborate closely with you to reimagine your bathroom's layout and functionality. From luxurious showers and freestanding tubs to elegant flooring and storage solutions, every detail is meticulously planned and executed. Our focus on waterproofing and ventilation ensures a durable, mold-resistant space.
Elevate your home with a bathroom that exceeds expectations, offering both comfort and sophistication. With our expertise in handling historic homes and working with preferred designers, we're your trusted source for full-service bathroom remodeling. Explore tub-to-shower conversions, frameless glass enclosures, basement additions, master suites, and more!
Basement Remodeling
Transform your basement with Hails Home Improvements. Our expert team will transform this underutilized space into a dynamic and versatile area that enhances your home's functionality. From framing and drywalling to creating functional spaces like bathrooms and kitchenettes, we handle it all.
Whether you desire a cozy guest suite, a classy entertainment area, or a multi-functional space, we've got you covered. With fine planning and innovative solutions, we deliver exceptional results. Let's turn your basement into a functional space that you can utilize for various purposes. Contact us for a personalized consultation today.
Dry Wall
We specialize in expert drywall installation, repair, and finishing services. Our skilled team ensures seamless and even surfaces, providing the perfect foundation for your interior projects. Whether you're starting a new construction or need to address existing damages, we swiftly repair any cracks, holes, or water damage, restoring your walls to their original condition.
With meticulous taping, mudding, and sanding, we guarantee a flawless finish, ready for paint or texture application. Rely on us for top-quality drywall solutions that bring your vision to life and transform your space.
Counter Tops
Tired of dull and outdated countertops that no longer complement your home's interior? Worn-out and stained surfaces can be a constant headache, affecting your kitchen or bathroom's overall look and feel. We understand the frustration of dealing with subpar countertops that fail to meet your expectations. That's why we offer a solution that will bring a touch of elegance and durability to your living spaces. Our wide array of exquisite countertops, crafted from premium materials like classic granite and contemporary quartz, promises to breathe new life into your home that will impress both you and your guests.
KITCHENS
BATHROOMS
FLOORING
BASEMENTS
PAINTING
DOORS
REPAIRS
ELECTRIC
PLUMBING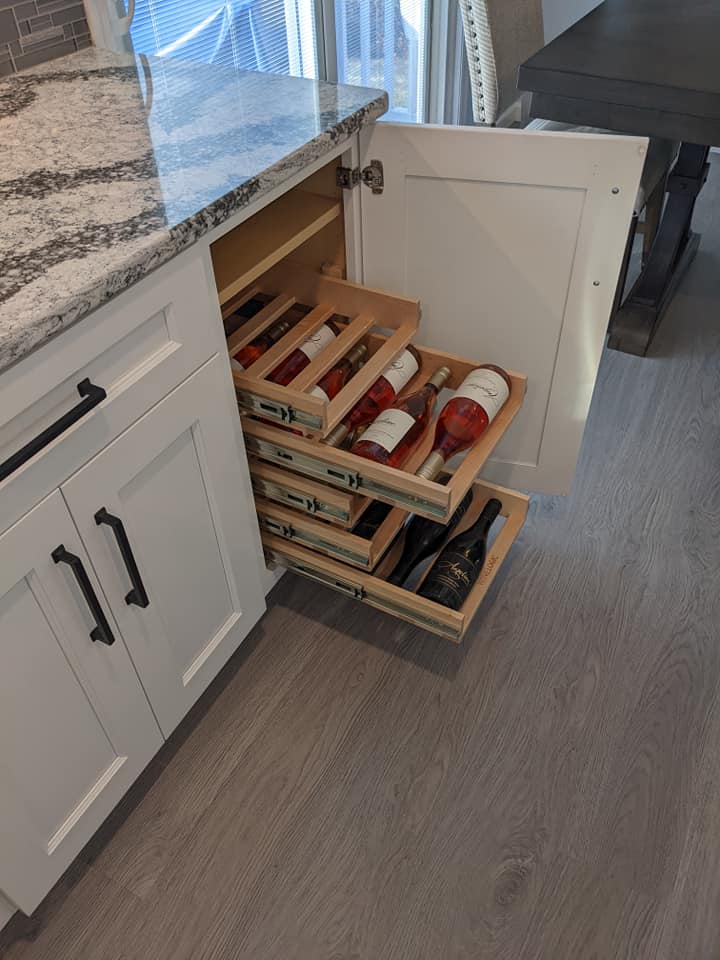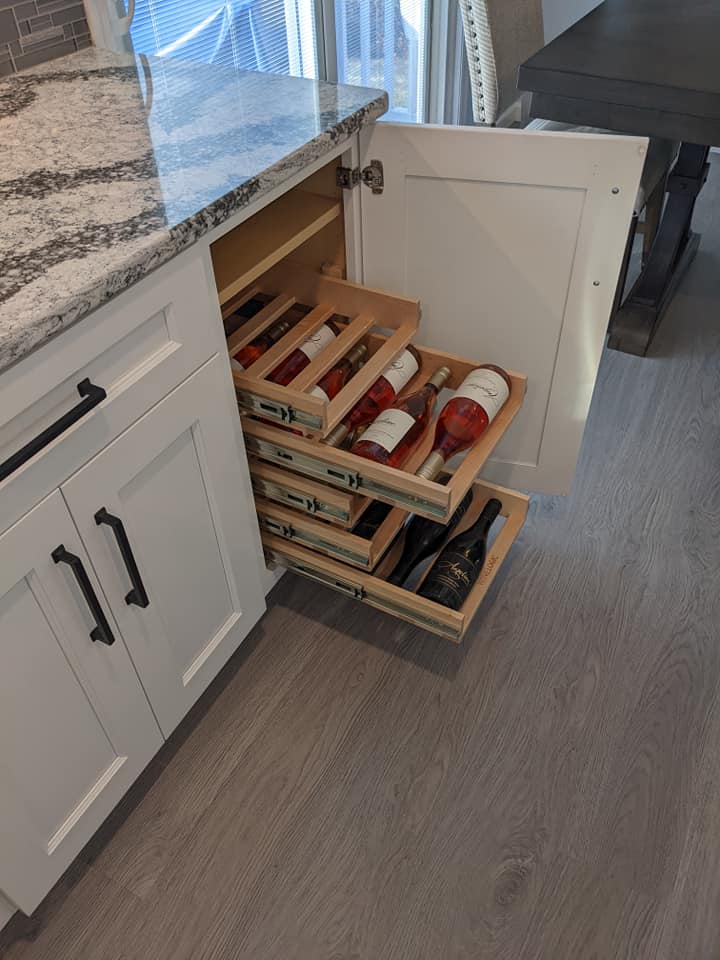 hhi-remodeled-kitchen-blue-and-wood-tones-other-side
hhi-remodeled-kitchen-blue-and-wood-tones
hhi-remodeled-kitchen-greyscale
hhi-remodeled-kitchen-wine-drawers
hhi-remodeled-kitchen-plants-and-cookies
hhi-remodeled-kitchen-new-stovetop
hhi-remodeled-kitchen-modern-black-white-brown
hhi-kitchen-tile-backsplash
hhi-replacememnt-windows-custom-new-kitchen
Kitchen Remodeling
---
Hails Home Improvements handles everything from light touch ups  to full kitchen renovations. Let us help you create your dream home this year!
We are a one-stop-shop, working on time, on budget, and with the highest quality craftsmanship. We offer free, in-home consultations to help design, create floor plans and help bring your ideas from concept to completion. We take care of everything, from the floors to the ceiling. Do you already have a designer you love, and just need the skilled labor to make the vision a reality? We would love to work with your designer to bring your kitchen remodeling dreams to reality.
Custom Cabinetry & Interior Design
Countertop Installation
Tile Backsplashes
Crown Molding
Sink & Faucet Installation
Appliance Installation
What is a realistic budget for a kitchen remodel?
Data from a Remodeling Magazine report puts a minor remodel in 2019 at about $22,500 and a major one around $66,200. But data from the National Kitchen and Bath Association shows remodels that involve a designer average from $48,000 to $90,000, depending on the kitchen's size.Nov 11, 2020.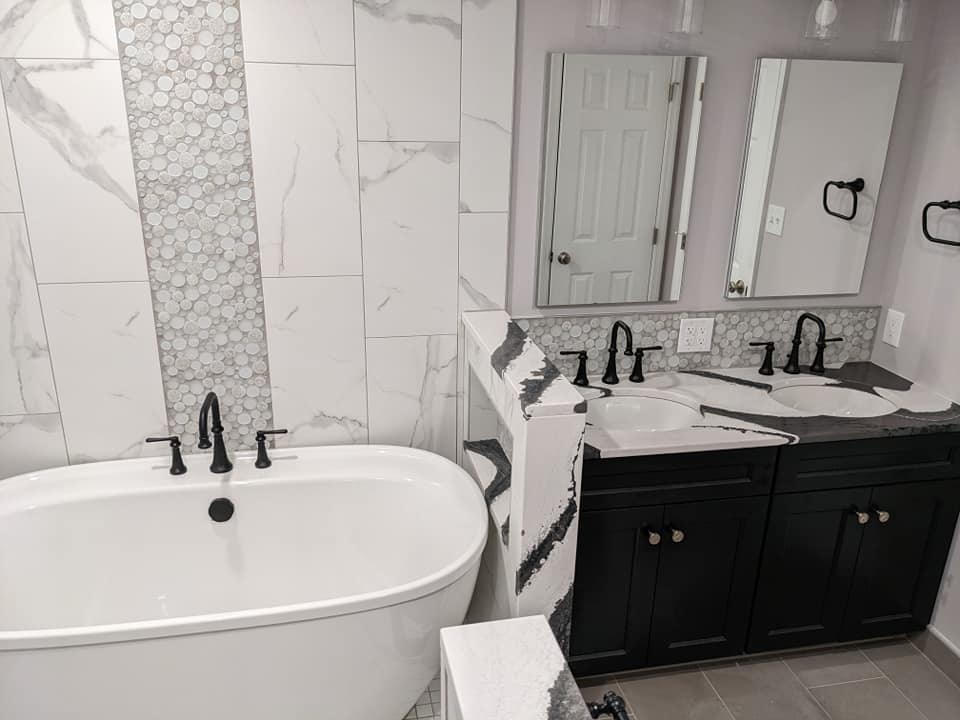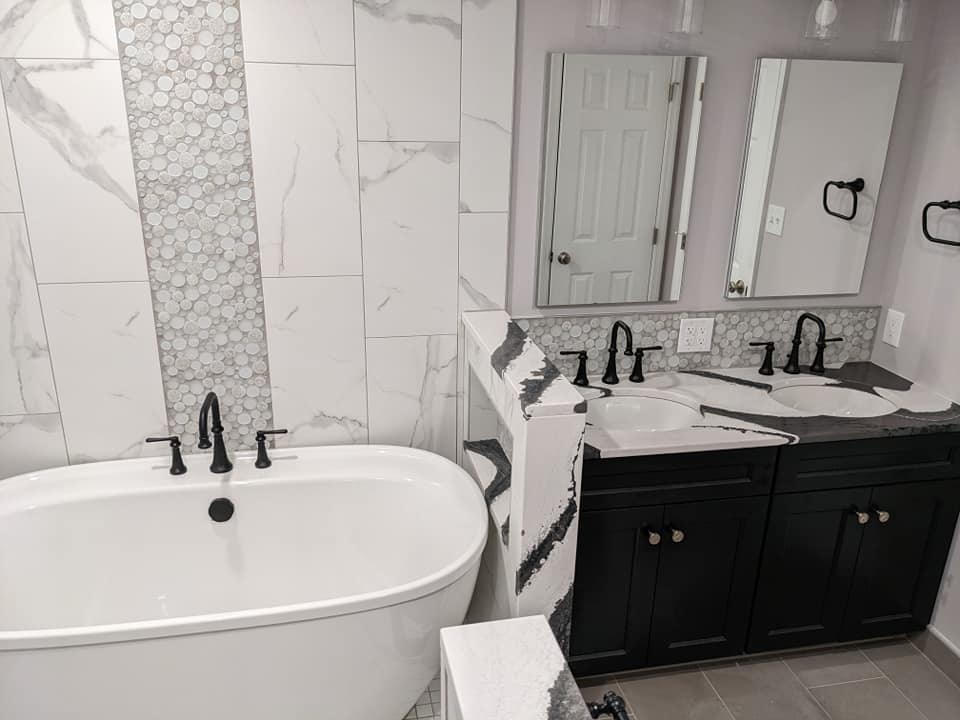 hhi-remodeled-bathroom-dual-vanities
hhi-remodeled-bathroom-300-year-old-witch-elm-bathroom-counter-sink
hhi-custom-bathroom-blackandwhite
Bathroom Remodeling
Hails Home Improvements handles everything from light touch ups to full bathroom renovations. Your bathroom has the potential to be a place that refreshes and relaxes you, not just be functional. Whether you're looking for a traditional bathroom or your own personal spa, our designers understand how to balance your aesthetic preferences and your lifestyle.
We offer complete remodeling solutions including plumbing, electrical, framing, trim carpentry, flooring, tiling, waterproofing and more. Our experience includes hundreds of successful bathroom renovations in the West Lawn PA and Berks County area. We expertly handle everything from luxury master suites to compact powder rooms. No matter what the project is, you'll enjoy our high-quality craftsmanship with attention to detail that will last you for years to come. We are your source for full-service bathroom remodeling in West Lawn PA!
Do you have a preferred designer already lined up? We can work with them to help you create the bathroom of your dreams.
Is your home historic or you're trying to restore the splendor of an older home? Hails Home Improvements has experience with these types of home and would love to work with you on your next project.
Tub to Shower Conversions
Basement Bathroom Additions
Master Bathroom Suites
Traditional Guest Bathrooms
Contemporary and Modern Bathrooms
Custom Walk-in Showers
Frameless Glass Enclosures
Compact Bathrooms with Innovative Storage
Luxurious Bathrooms with Integrated
Spa Features
Call today for a free estimate at (610) 823-9791.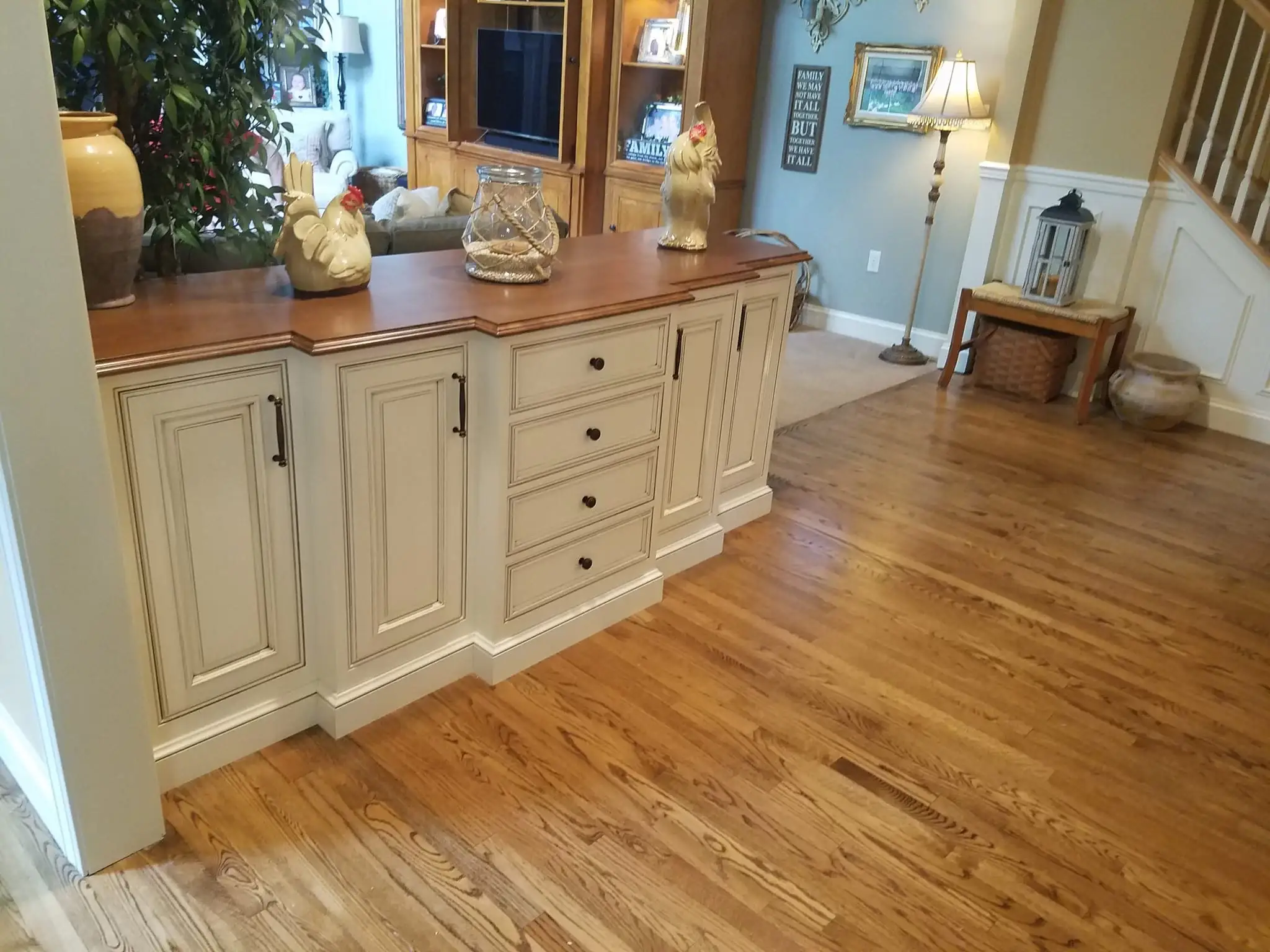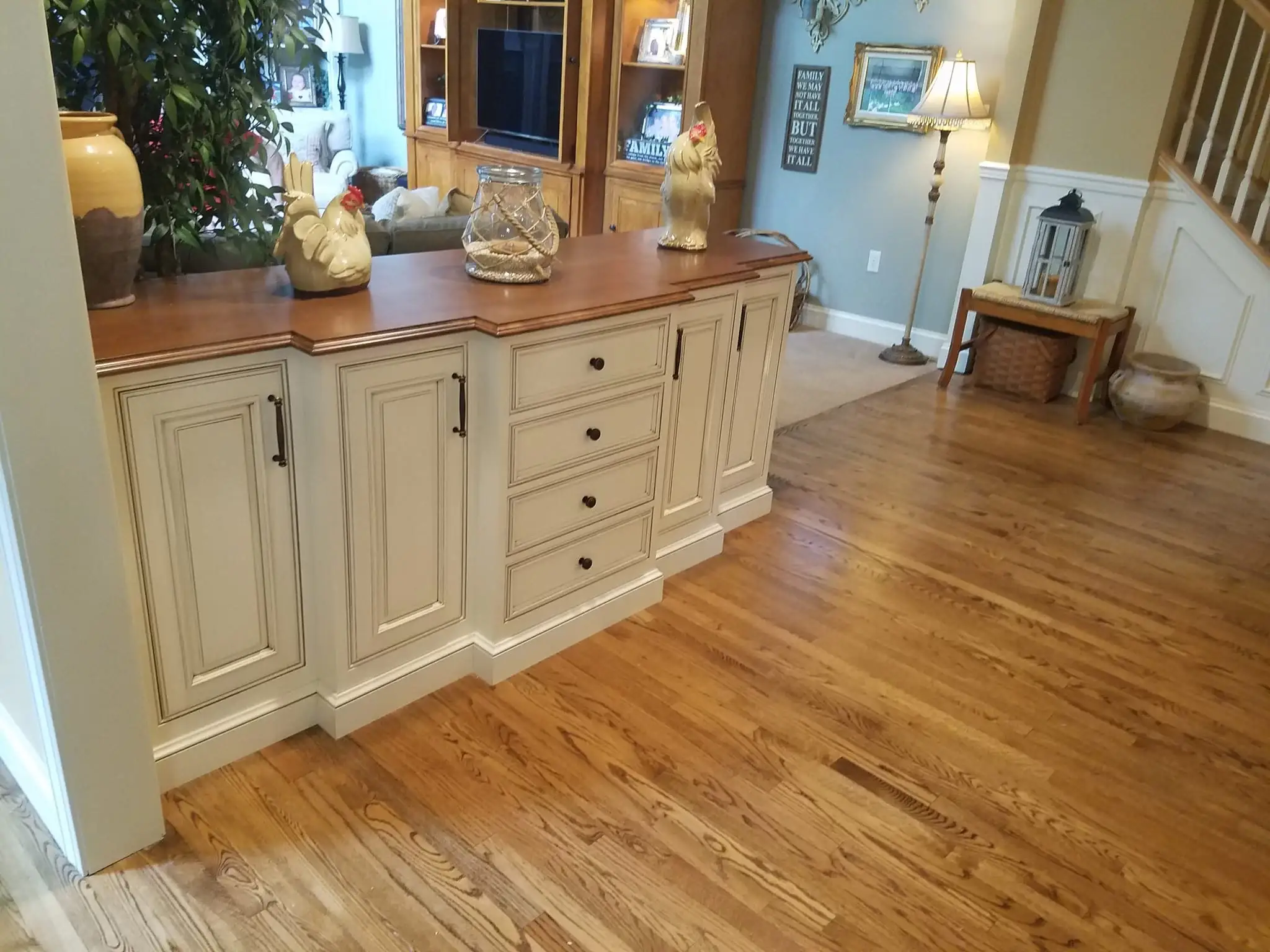 New Floors for Any Room
Trust HHI with your next flooring project. We are experienced installers and work with everything from hardwoods to vinyl.
Tile Tile & More Tile
– walk in showers – porcelain and natural stone
– heated floors
– grout repair and re-colorization
Finished basement in house
House interior. Basement room with TV
Finished Basements
Your basement is an entire part of your house that most people end up turning into simple storage. Why not turn it into a daily usable part of your home? HHI will help you with framing your basement, drywalling, adding bathrooms, basement kitchenettes additions, and can turn it into a full suit for guests or relatives!
Interior & Exterior Painting
More info coming soon...
Replacement & Door Repair
- replace your hollow doors with something more durable and beautiful
General Repairs
More info coming soon...
Drywall Repair
More info coming soon...
Electrical
More info coming soon...
Plumbing
More info coming soon...