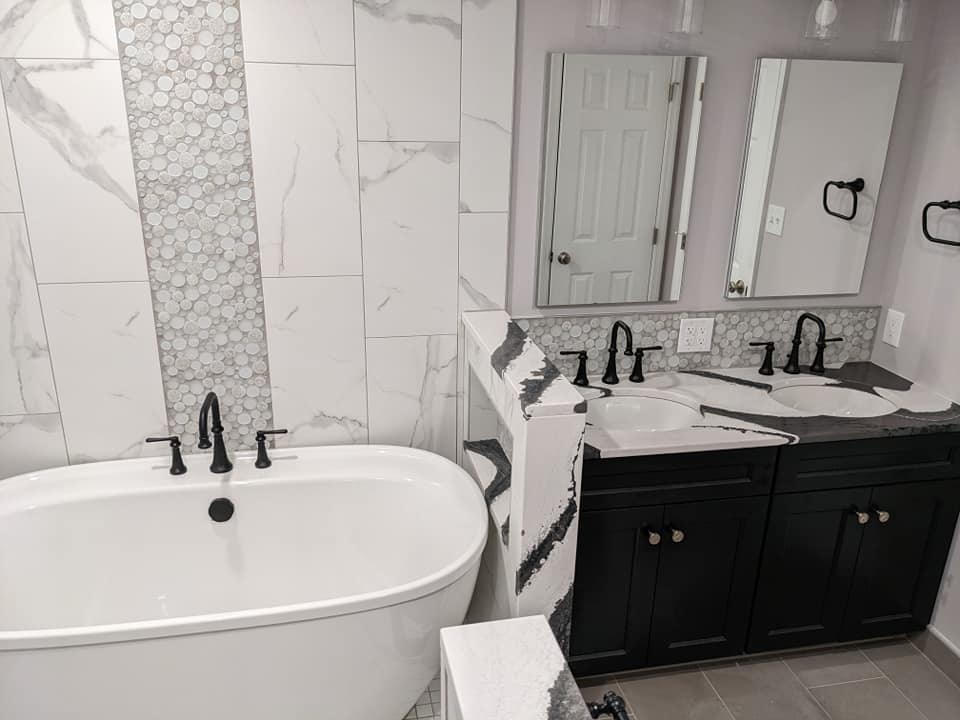 Your Trusted Home Remodeling Partner!
Extensive Experience
Highly Skilled Team
Comprehensive Services
Energy-Efficient Solutions
Innovative Design
Transparent Communication
24/7 Customer Support
Are you struggling with finding a reliable residential remodeling contractor? Put an end to your worries with Hails Home Improvements. With over 20 years of experience, our skilled professionals will understand your concerns, delivering exceptional artistry and customer service to turn your renovation visions into reality. Trust us to get the best!
Introducing Our Services - Where Innovation Meets Excellence!
Our services encompass outstanding home transformations that surpass expectations, no matter the scale or complexity of your home improvement project.
Custom
Bathroom
Remodeling

Custom
Kitchen
Remodeling

"HHI Contractors turned our outdated kitchen into a modern culinary haven! Their attention to detail and creative design solutions exceeded our expectations. We couldn't be happier with the results."
★ ★ ★ ★ ★
— Sarah John
"After searching for a reliable contractor for months, we finally found HHI. Their professionalism and commitment to quality craftsmanship made our bathroom renovation stress-free and enjoyable. "
★ ★ ★ ★ ★
— Mark Samuel
"From the initial consultation to the final walk-through, they impressed us with their transparent communication and excellent project management. Our basement looks stunning. Thank you!"
★ ★ ★ ★ ★
— Emily Luis
"Josh and his team far exceeded our expectations! Our project started as a kitchen remodel but morphed into an entire first floor Reno. Josh was extremely easy to work with during each step of the process and provided valuable insights and advice along the way. His crew was on time, professional, polite and incredibly skilled. I can't recommend Hails Home Improvement enough!"
★ ★ ★ ★ ★
— Vincent Huff
"HHI contractors' energy-efficient remodeling not only saved us money on utilities but also transformed our home into a sustainable and cozy environment. We are thrilled with the improvements they made! "
★ ★ ★ ★ ★
— Michael Jenner
"Choosing HHI for our home addition was the best decision we made. Their team handled the project seamlessly, and the new space perfectly blended with our existing home. Highly recommended!"
★ ★ ★ ★ ★
— Amanda Roberts
"Hails Home Improvement renovated my kitchen and bathroom. The renovation instantly brightened up my place! Josh was super attentive and his professionalism is A1. No complaints whatsoever, I was left completely satisfied!"
★ ★ ★ ★ ★
— Jenny.Rodzz
Get in Touch Today for a Free Project Estimation
Showers can wear out over time since it's the most used item in the bathroom. It's no surprise that they may need repairs or replacement eventually. But how do you know when it's time for a completely new shower installation in Westlawn?
Thankfully, some common signs can help you figure that out. Let's explore these six warning signs that indicate when to consider installing new showers.
6 Key Signs You Need Shower Installation in Westlawn
Mold Growth
Opting for Westlawn shower installation becomes a necessity if you are experiencing excessive mold and mildew growth in your shower area. This problem is often a sign of underlying moisture issues. A new shower with proper waterproofing and ventilation measures can prevent mold and mildew problems, ensuring a healthier and cleaner bathroom.
Frequent Clogs and Drainage Issues
One of the first signs that indicate you need a new shower installation is frequent clogs and slow drainage in your shower. Dealing with this issue can be frustrating. A new shower with an improved drainage system and easy-cleaning structure can help you eliminate this problem.
Consistent Leaks
Another common visible sign that you need a shower installation in Westlawn is the presence of leaks. Cracked or deteriorating showers can cause leaks to look unsightly and allow wastewater to seep into your walls, creating a breeding ground for mold and bacteria. Hiring a professional to install a new shower will help you save water and make your bathroom more attractive.
Outdated Design
Has your shower's design seen better days? An outdated shower can make your entire bathroom look old and tired. If you plan to sell your home, remember that no potential buyer would invest in a house with outdated showers. Therefore, with shower installation services, you can revamp your bathroom's look by incorporating sleek, minimalist showers, giving your bathroom a more luxurious, spa-like feel. 
Low Water Pressure
If you've been experiencing low water pressure in your shower, it's time to consider an upgrade. Outdated shower fixtures and plumbing are often the culprits behind this problem. A new shower installation in Westlawn can address these issues by modernizing your plumbing and providing high-quality, water-efficient fixtures, giving you a more refreshing shower experience.
Cracked Tiles
Cracked or chipped tiles around the shower not only ruin the appearance of your shower but can also compromise the integrity of the shower's structure, potentially leading to more extensive damage over time. By addressing this issue early on with Westlawn shower installation services, you will get a new shower and have damaged tiles replaced with new, fresh, and stylish ones.
Conclusion
Countering problems before they escalate is the best way to protect your home. When your shower displays any of these six signals, it's time to consider a Westlawn shower installation service. This upgrade enhances your bathroom's functionality and aesthetics and makes your bathing experience more comfortable and enjoyable.
If you identify these signs in your showers, seek expert help from HHI Contracting. Our dedicated team will provide the necessary repairs and exceptional new shower installations. Contact us to take your first step toward a revitalized bathroom today!